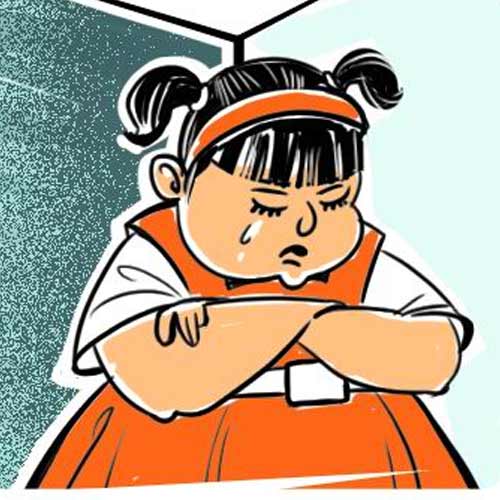 It was in Class X that Ria* began to suspect that she suffered from a mental health disorder. She spent hours reading, only to find later that her mind hadn't absorbed any of it. "I cried all the time and wished I was dead," says the
20-year-old psychology student
.
Alarmed, her mother made an appointment with a psychiatrist, who diagnosed her with a severe anxiety disorder. She was found to be deficient in serotonin — a hormone that helps regulate one's mood.
Help was not readily available elsewhere. When Ria confided in two trusted college friends, they spread the news after learning that the principal had made some allowances to help her complete her assignments. "Students thought I was faking illness to avoid work," she says. "Even my relatives said, 'It's all in your head'."
Nothing to crunch
According to a study conducted by the
National Commission on Macroeconomics and Health
in 2005, nearly 5% of India's population suffers from common mental disorders, such as depression and anxiety. But mental health experts say apart from several multi-centre surveys and studies, India is yet to have a comprehensive survey of all the states.
Raghu Appasani of
US-based MINDS
Foundation, says, "There are NGOs and research institutions which collect data. But, there is no national survey or data collection programme related to mental health."
This will finally be accomplished in July, when the ministry of health and family welfare begins a survey on mental health disorders.
Aiming to cover all states and Union territories, the large-scale survey, to be conducted by Bangalore-based National Institute of
Mental Health and Neurosciences
(NIMHANS), is projected to be the first of its kind.
Dr Mathew Varghese, professor and head of psychiatry, NIMHANS, says the survey will take at least a year to be completed as the plan is to go beyond just the numbers. "We will also look at how to plan and utilise services."
Where are the shrinks?
It isn't just a problem of diagnosis and the stigma attached to mental health disorders. Experts point out that there is a severe shortage of mental health professionals and facilities in India.
While Dr Rajesh Sagar, associate professor of psychiatry at New Delhi's All India Institute of Medical Sciences, says there is just one psychiatrist for four lakh Indians, Varghese says there are only about 4,000 psychiatrists, 1,000 psychologists and 3,000 social workers for the whole of the country.
Reasons for the shortage are manifold. For starters, there is brain drain, just as in other medical fields. "There are more Indian psychiatrists in the US and the UK than in India," claims Varghese.
Psychiatry courses are also not considered lucrative enough by state governments. Sujaya Krishnan, joint secretary at the ministry of health and family welfare, says each year, only 1,022 college seats for mental health professionals are set aside in India. "States need to increase the number of seats in colleges," she urges.
Mum's the word
Mental health is treated almost like an afterthought. During a four-and-a-half-year-long MBBS course, only two weeks of clinical postings are dedicated to psychiatry, explains Sagar.
It doesn't help that it is almost taboo to discuss mental health issues even in urban India.
Fashion designer Aarti, 22, remembers suffering from a fear of death when she was in school. "Because I wasn't aware of the help available and refused to talk to my parents, I found myself lost." She sought the help of a counsellor at the age of 18. "My parents and siblings weren't supportive at the time," she says. They thought that only "mad people" saw counsellors.
While talking about MINDS foundation's work in rural Gujarat where individuals are encouraged to voluntarily ask for help for mental illnesses, Appasani agrees that the stigma attached to mental health issues will take time to disappear. "But community education and updates to facilities can aid in this process," he points out. "We cannot underestimate the power of education and informing people about the issue."
(Names have been changed to protect identity)
Docs: All suicides not due to depression
Days after Bollywood actress Jiah Khan committed suicide, a 12-year-old who was upset over the news hung himself in Jaipur. Incidents of youngsters taking their lives for the most unreasonable reasons are far too common.
Do these suicides flag a potential mental health emergency in India? Although critical of the sensationalism of stray, extraordinary cases of suicide,
Mathew Varghese
, professor and head of psychiatry, NIMHANS, says though there are many impulsive suicidal attempts, not all are due to depression. "Suicides in teenagers and young adults are possibly due to change in the social fabric of our society and much more complex in causation. For example, causes may vary from performance expectations, loss of family support and communication, urbanisation, poverty, loss of desired objects and so on.
Source - dna india